6 DAYS
TO LAUNCH
"Intro Cartoon"
Kevin and I have a comic strip at the beginning of every issue of Double Barrel that serves as our introduction as well as a mini-editorial of sorts. Normally the creation of a comic strip is not a terribly gripping process, but in order to capture both of our voices, this comic strip is drawn by both of us, each pencilling and inking ourselves, as well as whichever strikes our fancy in the background.
A lot of people ask us, "How do you collaborate?" The answer really depends on the project. Usually one of us will do all the lettering, one will do all of the characters, etc. Using this division of labor we end up with a book that looks consistent from beginning to end. With this Double Barrel intro cartoon, however, we wanted the strip to really reflect us as individuals, so you'll see my art style sitting right next to Kevin's style. The result is a little incongruous, but on purpose. Unlike other projects where we try to blend our styles seamlessly, here we want our individuality to come through.
Here I am writing the strip. Kevin and I brainstorm gags on a particular subject (this time it's "San Diego Comic-Con") and I flesh out a rough story based on our bullpen session. I frequently go off on various tangents while "writing" the strip, since I'm typically pencilling and dialoguing it at the same time to better make the gags work. It tends to keep the strip more interesting and less manufactured-looking and -sounding in the end.
Here's one of many desks that Kevin works on around the office. It's hard to see, but the portrait sitting under the lamp is of Kevin's favorite filmmaker, French New Wave auteur
Luc Moullet
. It was painted by another auteur, local phenom
Matthew Kriske
.
Since this particular cartoon won't air until July we don't want to give too much away. But here's a close-up of Kevin's lettering pencils sitting above my character pencils, which will then both be inked by Kevin.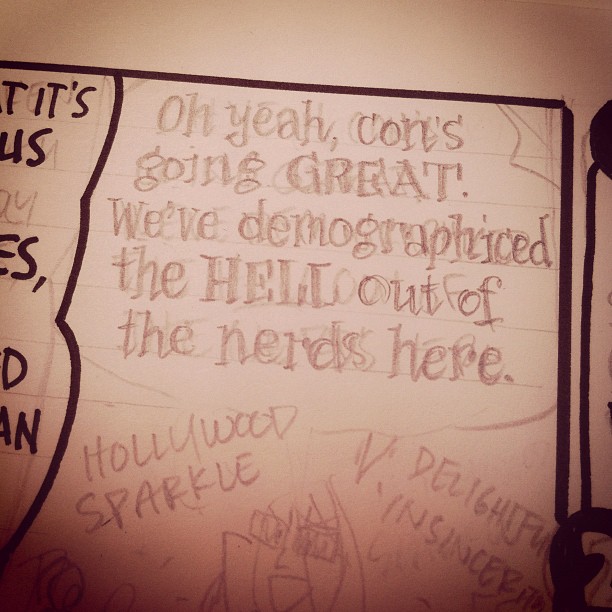 And here's a fun split panel, where everything on the left was drawn by me, and Kevin took everything on the right. I basically only give Kevin a very rough sketch, enough to communicate what characters are where, what the basic layout is, what each word balloon says, but he is then set loose to render things however he wants. Sometimes I ask for the pages back so that I can make my half a little nicer to match his.
Oh, and look, here I am writing this very blog post.
Postscript: Jam drawings are my favorite form of collaboration, particularly when each person works on their section one at a time, and the outcome is in doubt, like these Versus Comics Kevin and I did a few years back.